Due to recent high volume of phishing and scam emails, it is essential for everyone to be aware and cautious with email messages. Please NEVER enter your credentials in a link you receive in your email.
Any suspicious emails should be forwarded to Creative Tech <support@creativetech.com>
Stop and think before clicking any links or attachments
If things look "phishy", verify with the sender through a different medium
"When in doubt, throw it out." You are the last line of defense.
Phishing emails
Typically in a phishing email scam, you receive an email that appears to come from a reputable organization, such as:
Banks
Social media (Facebook, Twitter)
Online games
Online services with access to your financial information (e.g., iTunes, Amazon, accounting services)
Departments in your own organization
To protect against phishing attacks, it's good practice not to click on links in email messages.
Instead, you should enter the website address in the address field and then navigate to the correct page, or use a bookmark or a Favorite link.
Phishing emails may also include attachments, which if opened can infect the machine.
How to avoid being phished
Curate your emails. This means, each time you notice an email that's a spam source, you can mark it as spam so this sender can't send anything else: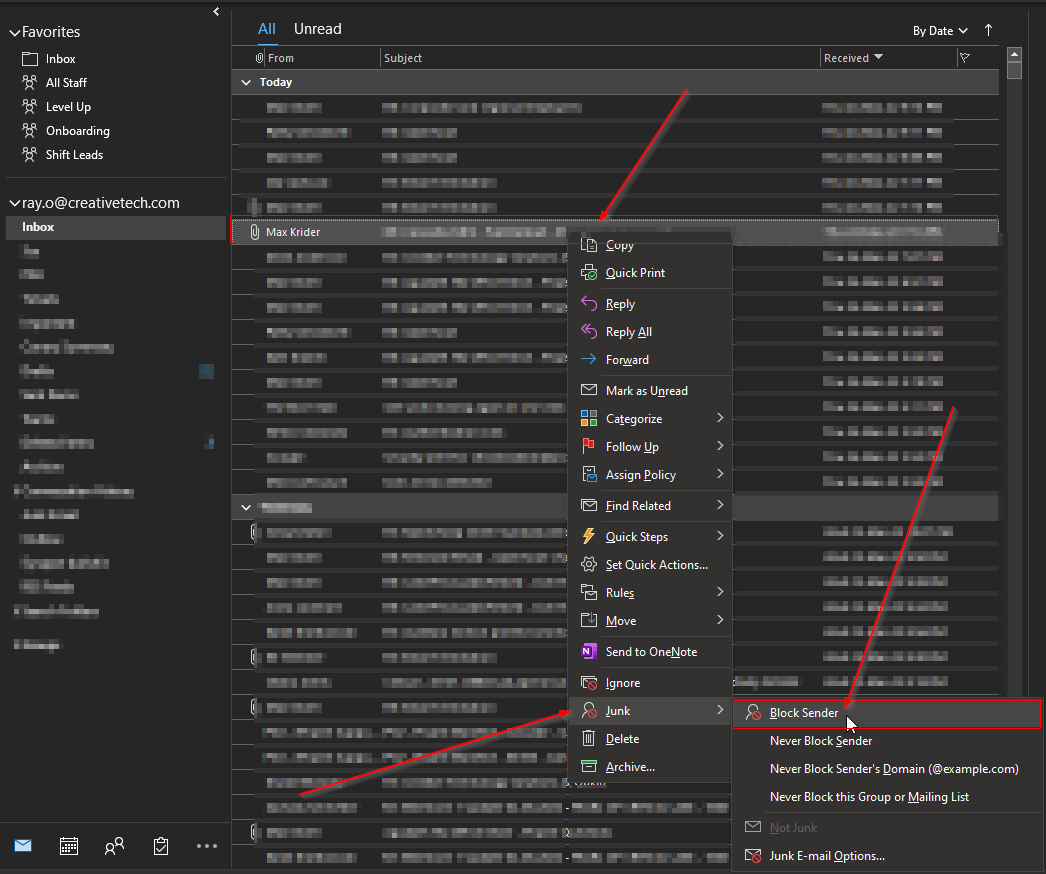 Never respond to emails that request personal financial information.
You should be suspicious of any email that asks for your password or account information, or includes links for that purpose.
Look for signs that an email is "phishy".
Some phishing emails are generic, using greetings like "Dear valued customer." They may also include alarming claims (e.g., your account numbers have been stolen), use suspiciously poor spelling or grammar and/or request that you take an action like clicking a link or sending personal information to an unknown address.
Don't follow links embedded in an unsolicited email. Phishers often use these to direct you to a bogus site. Instead, you should type the full address into the address bar in your browser.
Don't open or reply to spam emails as this lets the sender know that your address is valid and can be used for future scams.
What to look for
Spelling & Grammar Errors
Sender Address
Things that sound too good to be true
Beware of unsolicited messages
Attachments
Links
Login pages
To summarize:
Use your common sense

Always be suspicious

Don't click on suspicious links or attachments

Delete suspicious messages immediately

Never respond to email requests for personal info

Does that email look suspicious? Read it again

Be wary of threats and urgent deadlines