1) From your local Desktop, locate the icon named Your Company Cloud and double click to run it.
It will look like one of the icons below: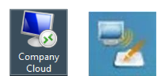 2) When you open it, you will see the prompt below.
Check-mark the square with the Don't ask me again... text and click Connect.

Enter Your password in the 2nd field, then click OK.